Upload your finished book, or create with a professional template using Tablo's online writing platform.
Authors use Tablo because of the beautiful book-building interface which lets you upload, design, print and publish your books with ease. You don't need any other programs or tools - everything from typesetting to assigning ISBNs is handled by Tablo, and you can focus on your writing.
Create My First Book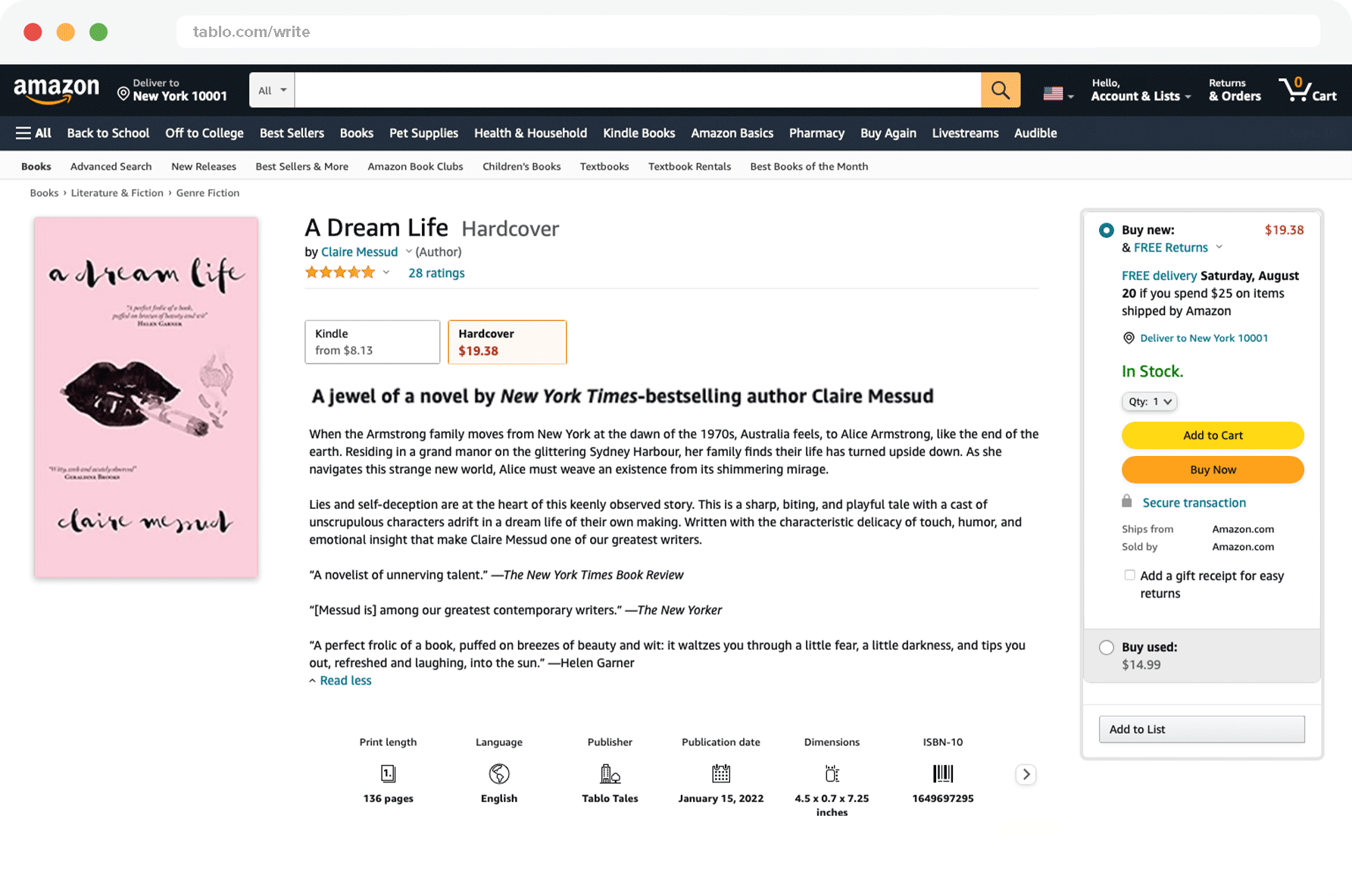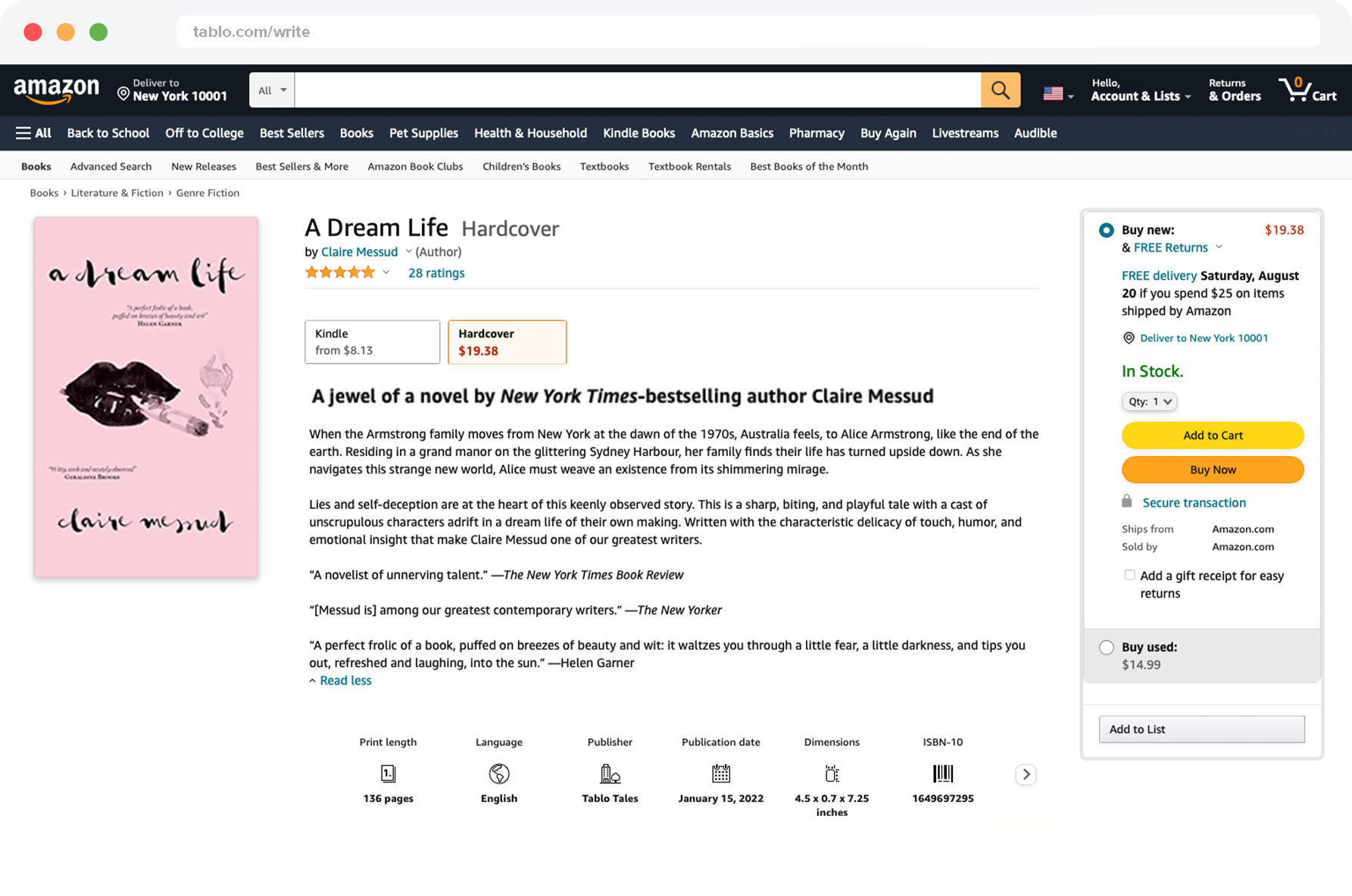 Publish on the largest distribution network available to authors.
Self-publish and sell your books worldwide, from Amazon to your local bookstore.
Anything that you create with Tablo can be self-published and distributed to a global network of 40,000 bookstores, including Amazon and Barnes & Noble. Books are printed and shipped on-demand from our global print network, earning you a royalty on every sale.
Get Started

Print just one copy of your book, or thousands.
Print paperback and hardcover copies of your book with the click of a button.
Anything that you upload or create in Tablo can be printed and shipped to your door. When you print books with Tablo, you can sell them to readers, host launch events and book signings, or share them with family and friends.
Create My First Book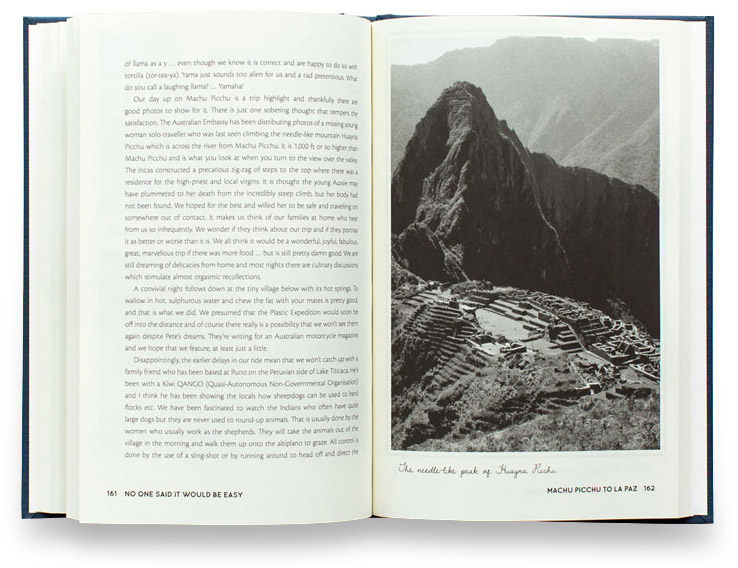 Powered by an on-demand network of 26 printers, shipping books to 150 countries.
Tablo has printing partners around the world who will print and ship your book anytime it's sold, from the closest location to the customer. You'll enjoy global availability for your books, will never need to carry inventory, and will earn a profit on every sale.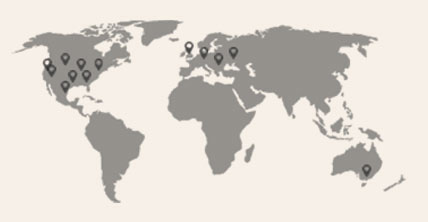 Earn royalties when you sell your books, and withdraw them on-demand.
Tablo is the only platform that lets you withdraw royalties on-demand, the moment they become available. You'll get paid faster, and see a detailed breakdown of your book's sales including the type of book sold, the bookstore and country that it was sold in.


Tablo can do everything (except write your book).
You'll have all of the tools to print a single copy, or publish a global bestseller, in one place.
✓

Import documents, blogs or websites
✓

Print your book in paperback and hardcover
✓

Write a book from scratch
✓

More than 20 printers, shipping to 150 countries
✓

Publish your book to over 40,000 bookstores
✓

Edit, format and typeset in the browser
✓

Track your book sales daily
✓

Choose from professionally typeset themes
✓

Withdraw royalties on-demand
✓

Keep all of your rights
✓

Preview your proofs in the browser
✓

Live chat and dedicated support for authors
✓

Book reviews and Quality assurance

It's completely free, up to the point of printing or publishing.
You can create and import your books in Tablo for free, forever, and choose to print or publish when you're ready.
Publish to Bookstores
From $99/yr
Publish your book as an eBook, Paperback and Hardcover book.
Distribution to 40,000 bookstores and 30,000 libraries, including Amazon.
On-demand printing and distribution.
All ISBNs provided
Set your own price, keep all of your rights and royalties.
Learn More About Publishing
Print on Demand
From $4.99/copy
Print small or large quantities of your books, with volume discounts.
Print in Paperback or Hardcover.
Create your book inside Tablo, or upload finished PDF.
All ISBNs provided
Shipping to nearly any country.
Learn More About Printing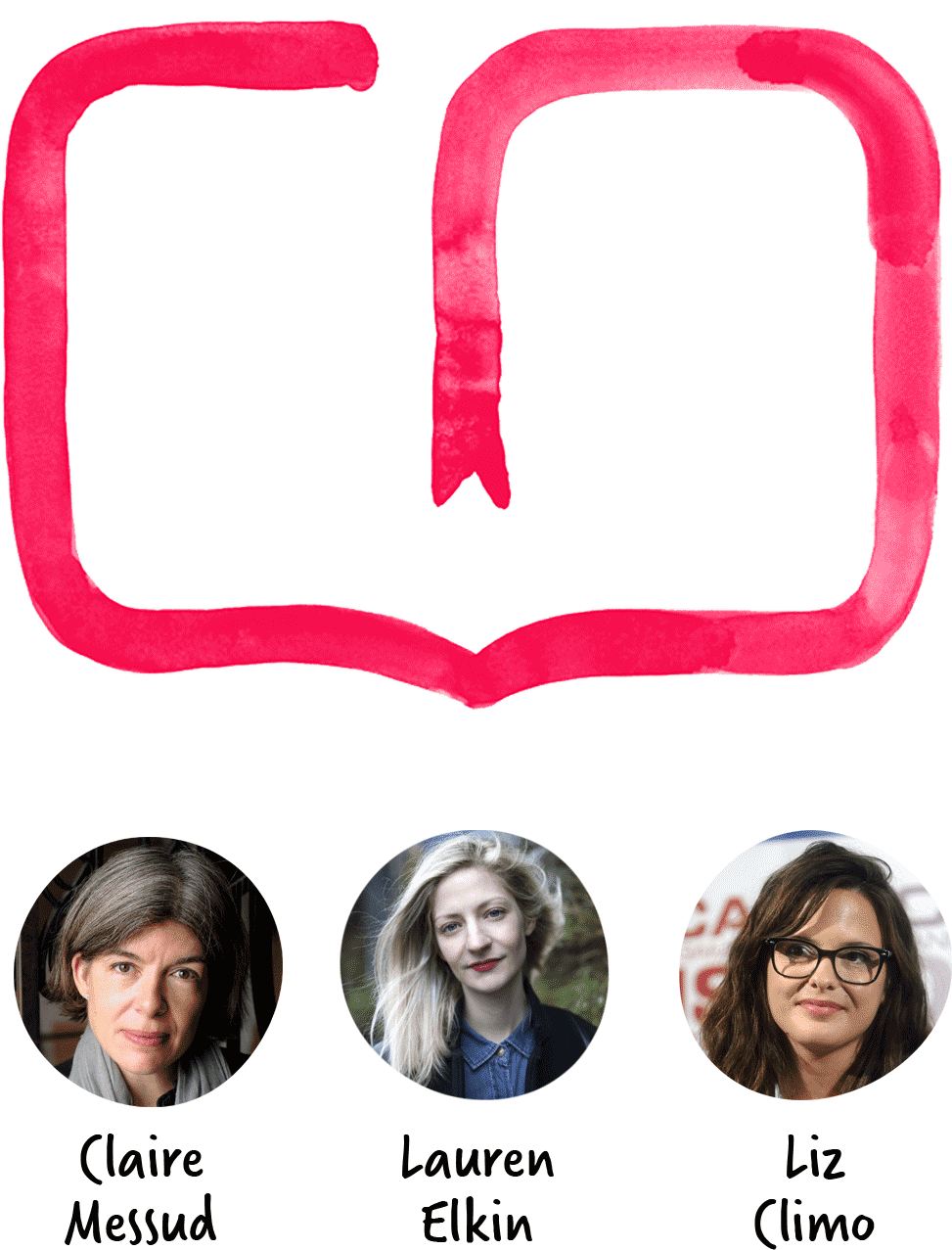 Blurring the lines between self-publishing and traditional publishing.
Some of our best authors are now represented by Tablo's traditional publishing label.
We care deeply about disrupting the traditional publishing industry and supporting the next generation of great writers. That's why we started Tablo Tales, a publishing imprint that offers traditional representation to the most extraordinary Tablo authors, like NYT Bestseller Claire Messud and Instagram sensation Liz Climo.
Learn More about Tablo Tales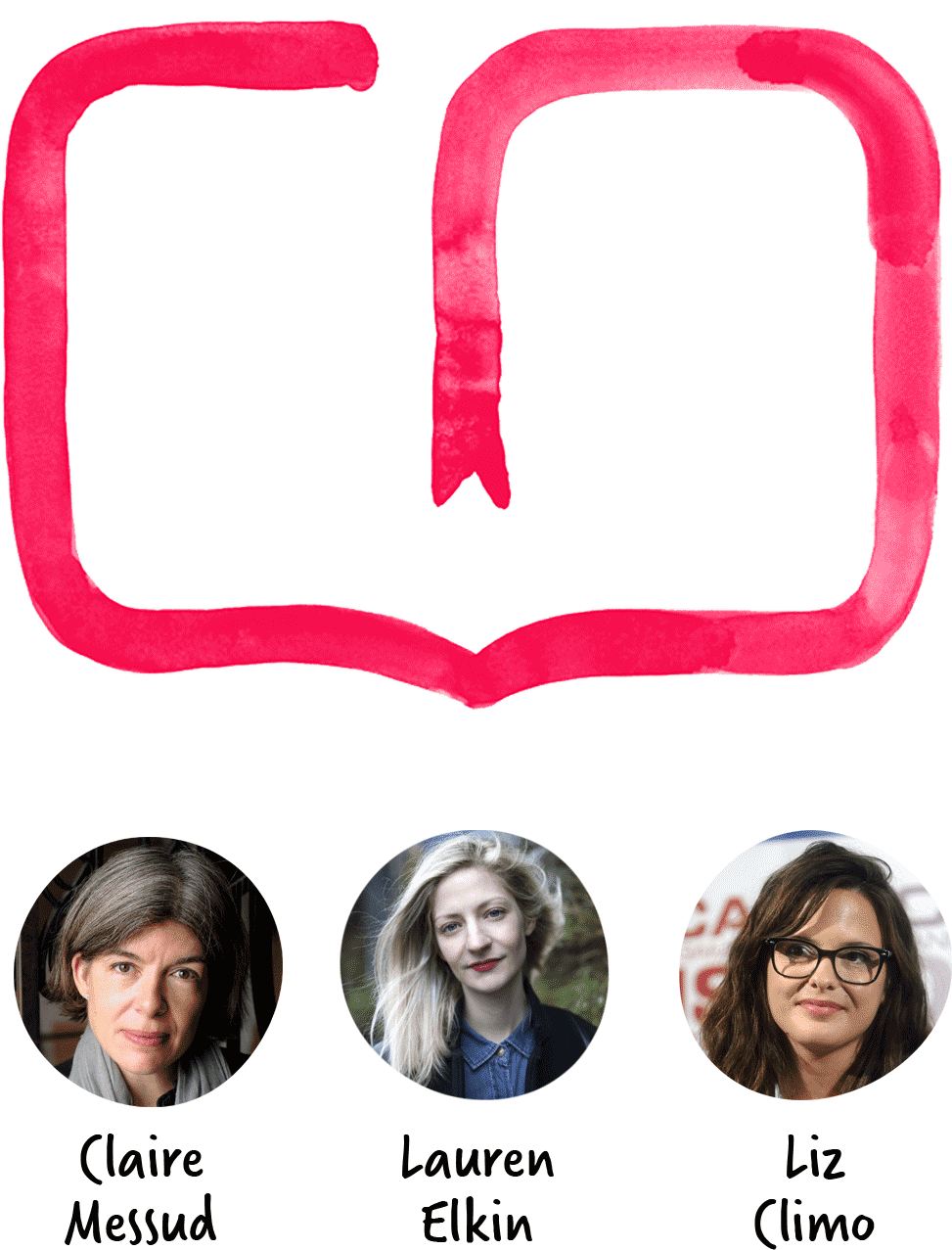 Our vision is to provide the most author-friendly book publishing experience in the world.
Creating an author-friendly publishing experience means making publishing easy, fun, and fair. It means putting all of the tools to create a book, publish it, track sales, and print copies at your fingertips so that you can build your career as a writer. It means offering the fairest prices, with the most author-friendly terms – you keep all of your rights and royalties. And it means offering a caring, collaborative arm of customer support to help you achieve your goals, both before and after publishing.

Create your book with Tablo today.
More than 100,000 authors love using Tablo to publish their books.
We hope you do too.
Let's Begin